VEECO Ready to Provide Solutions for Micro LED Technology
Tag :
VEECO,Micro LED Development
As one of the most important next generation display technologies, Micro LED performs excellently and can be widely applied in wearables, mobile phones, automotive displays, AR/VR, video wall (digital display), TV and others. For solving the technology bottlenecks of Micro LED, the development of technology relies on cooperation between different companies with their expertise in equipment, materials, panels and brands.
LEDinside was honored to interview Dr. Ajit Paranjpe, Senior Vice President and CTO of Veeco, to learn the current difficulties of developing epitaxy for Micro LED.
According to Ajit, achieving wavelength uniformity and low defect density to reduce the production cost is the key to successfully apply MOCVD in Micro LED technology. Less than 10 dead pixels are allowed in a display to fulfill the general standard of the display industry. Thus, the yield of LED epitaxy has to be very high to reduce the possibility of dead pixels. Currently, Veeco is able to control the defect density on epitaxy to be less than 1 defect per centimeter square.
Sorting and binning are the methods to reach wavelength uniformity for conventional LEDs. But Micro LEDs are too small to be sorted and binned; therefore, the uniformity of LED epitaxy is even more critical. The requirement for epitaxy for conventional LED is around 8-10nm. In comparison, the general requirement of color uniformity for displays is to reach 1-2nm across the display depending on the type of display. It is impractical to achieve a wavelength uniformity of 1-2nm across the wafer. With the appropriate transfer technology, the uniformity requirement of MicroLED can be relaxed to 3-5nm across the wafer. The uniformity of Micro LED at the phase is around 3-5nm, which does not meet the requirement of the industry; thus, this requires close cooperation between epitaxy and transfer technologies.
Aside from the performance of products, LED manufacturers also need to consider their operation cost. Veeco has been helping them to reduce the cost of ownership with its equipment and has launched two sets of equipment, Propel enLight GaN MOCVD System and EPIK 868, for optimizing the operation to meet the demands of the market. Propel enLight GaN MOCVD System produces 200mm (8-inch) wafers and EPIK 868 produces 150mm (6-inch) wafers.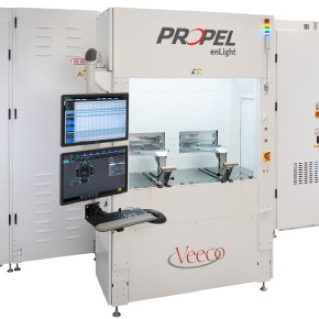 Ajit noted that Veeco can reach 90 percent yield to produce 8-inch GaN on Si LED wafer with 3nm wavelength uniformity. The feature of GaN on Si LED wafer that the substrates can be removed easily for wafer bonding. Combining with color conversion technology such as quantum dot, the LEDs will be able to perform full color images, providing improved resolutions with applications for the HUD projector market.
Ajit also shared his observation about current requirement for Micro LED technology and products. He reckoned that adopting Micro LED for displays will lead to better display quality and the production cost will be reduced in long run. For HUD, Micro LED will enhance brightness and widen viewing angle to improve the fieldof view for drivers. Micro LED can also provide higher brightness for AR and VR application. He added that large size TVs which is bigger than 75-100 inches will be the sweet spot to adopt Micro LED technology while mobile phone being the last market opportunity as it requires high resolution and lower cost.
Veeco has been working with worldwide manufacturers to provide its MOCVD for the production of Micro LED. Moreover, beside its MOCVD equipment, Veeco also plans to offer various technology support and services for different production processes according to the needs in the industry.
Source:ledinside.com