Tatsuo Miyajima Exhibits Hypnotic Digital Installations
Japanese artist tatsuo miyajima has presented 'i-model', a complex and interactive exhibition at lisson gallery, london. three new bodies of work have comprised the show, all of which underscore miyajima's relationship to technological mediums such as electric circuits, video, LEDs, and computers. the contemporary digital materials are translated into counters — repetitively blinking cycles of number displays, slowly ticking and counting from 1 to 9 or 9 to 1 that metaphorically represent the journey from life to death. debuting for the first time is 'life palace (tea room)', a red leather clad chamber that invites one entrant at a time to step within a hypnotic, cavernous constellation of flickering digital numerals and blue lights. occupying the entire gallery space, the intimate, personal volume is meant to encourage contemplation and isolation, a reinforcement of miyajima's buddhist-infused philosophies of reflection and time.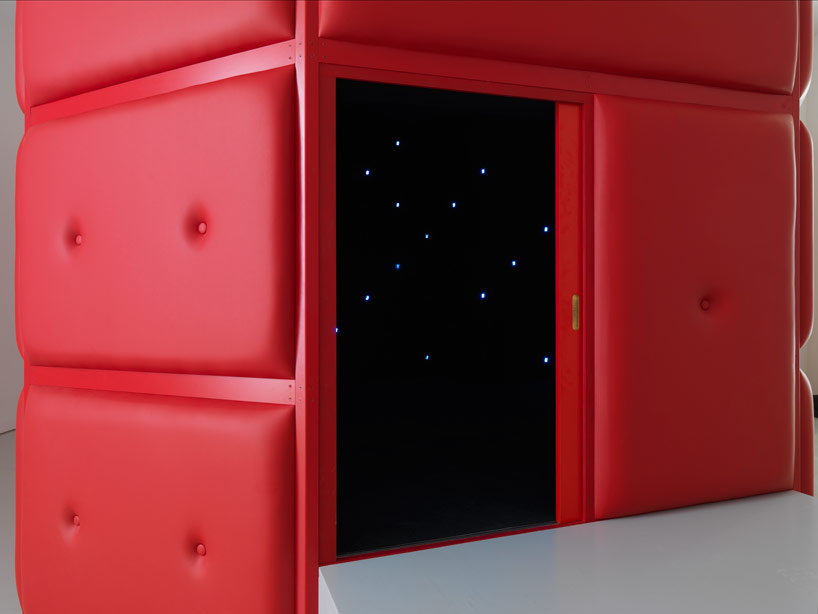 The show's namesake refers to a creative collaboration between the artist and professor takashi ikegami of tokyo university, an expert on artificial life. together they have designed a computer program that generates number sequences in response to the rhythm and speed of others ongoing in the system. the result is 'corps sans organe': an installation that is made of intelligent data very much like 'living' organisms. instead of a collection of randomized circuits, the clusters of flashing digits can function independently from the interconnectivity of its constituent parts.
Tatsuoa miyajima was born in tokyo in 1957. since the 80s, he has been creating works of varied character, dealing with notions of time and space as central themes. he was introduced to the western world at the 1988 venice art biennale and 11 years later, at the 48th biennale,  reigned over the japanese pavilion with a wide sky of blue LED digits.
Source:designboom.com