Skills for Selecting and Purchasing Chinese-style Vintage Pendant Light
Tag :
Chinese-style vintage pendant light, vintage pendant light, Chinese-style pendant light, pendant light
Pendant light is very common in our daily life. The Chinese-style vintage pendant light can not only play a simple lighting role, but also an obvious lighting role. Regardless of the size of living room, a pendant light has strong artistic decorative effect. However, probably few people know how to select a Chinese-style vintage pendant light. Next this article will elaborate some specific skills for selecting and purchasing a pendant light.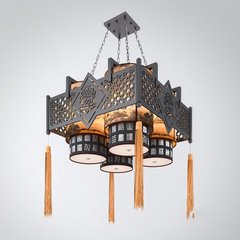 The first thing to note when buying a Chinese-style vintage pendant light is its relevant signs such as the brand, model and rated power. This is significant because lamps shall only be used with rated voltage, otherwise it is very likely to result in the deformation of the outer casing or insulating layer. Besides, it is also important to check whether the height of the pendant light is appropriate. It is recommended to choose a lamp whose height can be freely adjusted so that it would be very convenient to make adjustment.
The selection of material for Chinese-style vintage pendant light is also very important. When making your selection, you should first pay attention to the specific functions. It is certain that form shall follow function. For example, the light made of some kind of material may not fit a particular room. In addition, you should consider the bearing capacity of the lamp when choosing a pendant light, that is, whether the supporting structure and bearing capacity of the material meet the requirement.
Source:denggle.com