NEC Launches New Series LED Displays and Samsung Showcases Its Latest Displays at CEDIA 2018
Tag :
CEDIA 2018,QLED Display,The Wall,LED Display,Samsung,NEC
According to the latest research report of LEDinside "2019 Global LED Video Wall Market Outlook - Cinema, Rental Market and Price Trend," the market scale of global LED display is expected to reach US$ 9.349 billion by 2022 with a CAGR of 12% during 2018 to 2022. Meanwhile, the market scale of indoor fine pitch display is forecasted to reach up to US$ 1.997 billion with a YoY growth of 39%.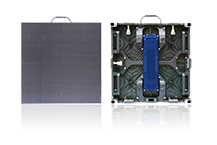 The trend can be observed through the announcement of leading display brands releasing products of fine pitch LED displays. NEC Display has announced its new fine pitch Direct View LED (dvLED) displays series for providing a comprehensive video wall solution. Meanwhile, Samsung also unveiled its plan of showcasing its latest technology innovations at CEDIA 2018.


NEC Display Solutions of America has announced the launch of its new F-Series indoor fine pitch direct view LED (dvLED) and Q-Series indoor and outdoor dvLED panels that offer customers a complete video wall solution. The F-Series is featured with its pixel pitch of 1.2mm, 18-bit color processing and the option to add HDR10 capacity, delivering sharp images and deep contrast. Meanwhile, the Q-Series dvLED panel is designed for customers who need a larger display, with a 1:1 aspect ratio panel and a wider pixel pitch starting at 2.84mm to produce seamless images.
Grant Wylie, Senior Product Manager at NEC Display, said, "As a major player in the dvLED market, we're delivering the crystal-clear, color-accurate image customers want with the value they need, thanks to features like a 80,000-hour lifespan, front and rear serviceability, and a variety of pixel pitch options perfect for customer in retail, command and control, house of worship, theaters, hospitality, corporate lobbies, and more."


The Korean technology giant Samsung, after demonstrating its new 8K QLED TVs at IFA, has revealed that it will showcase the latest product innovations including the entire QLED TV, The Wall, The Frame 2018 and Direct View LED Series as well as its new soundbar line up.
"At this year's CEDIA, Samsung is also showcasing its business portfolio advancements with display technology specifically designed to bring an added layer of luxury to the home," said Ron Gazzola, Senior Vice President and GM at Samsung Electronics America. "Innovative products such as The Wall and the newest Direct View LED Series highlight how Samsung is creating technology for the ultimate in design, customization and reliability for the home."
Source:ledinside.com