LED Retrofit Lightbulbs: Bulled by Ledo
'bulled light bulbs' by ledo LED technologie all images © of ledo LED technologie
German company ledo LED technologie GmbH has created 'bulled', a series of three retrofitted LED light bulbs which match the size, shape and brightness of incandescents while being 85% more energy efficient. 11 dimmable LED modules combine in a single frame to create as much illumination as a 60 watt incandescent while only being 11 watts. while fluorescent alternatives are also energy efficient, they have a cool color temperature, giving off a white light. by contrast the color temperature of 'bulled' is 2800K, allowing the light to look very warm and natural. because of the shape, the light disperses at 330 degrees. with a lifespan of 80,000 hours it lasts 80 years with conventional use.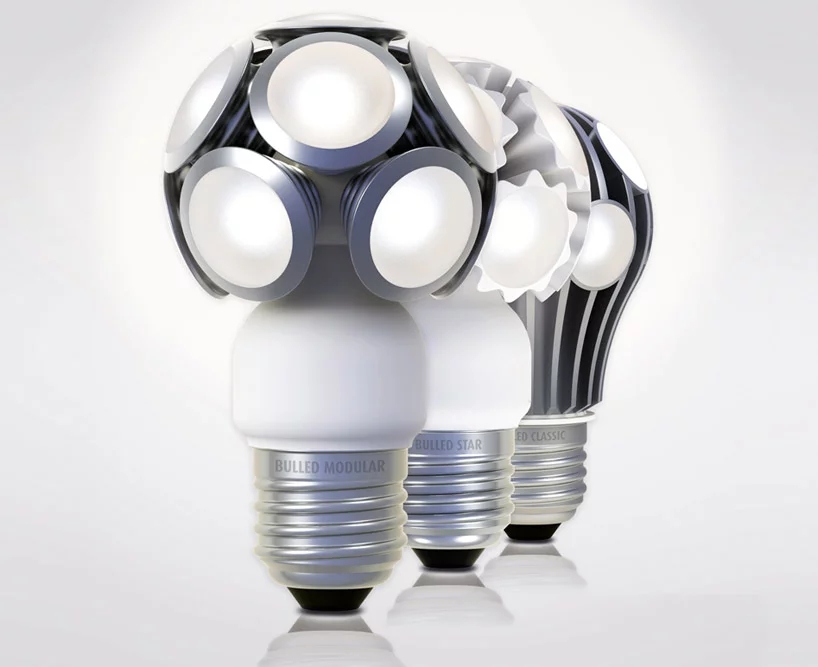 The first of the series, 'bulled classic', is made of aluminum and other durable electronic components. there is no mercury or lead to be found, unlike in other incandescent alternatives. the body is composed of the LED bulbs located inside cooling fins. 
For 'bulled modular', the cooling fins are no longer needed. the fin cones form air ducts, and with the resulting thermodynamic movement, the cool air is guided through the ducting. 
In 'bulled star' aluminum is replaced with a combination of synthetic materials, making it the most lightweight of the series. 
the conductive qualities of the material allow it to match the cooling efficiency of the other two models. 
Source:designboom.com