LED Supertower at Sziget
The vodafone supertower, installed for the sziget music festival in budapest, hungary
Constructed by vodafone for the sziget music festival in budapest hungary, the 'supertower' is the site of not only mobile internet and phone charging services but also large-screen gaming, DJ performances, and audiovisual installations for the festival.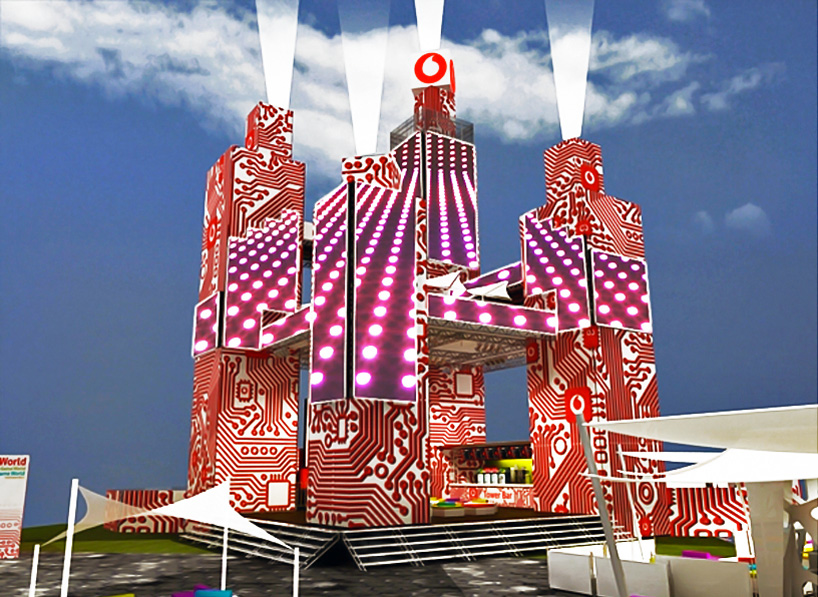 A small pavilion on front of the tower lets users use a dedicated android phone to play the app 'rocket bullet storm' by nemesys games, with the visuals displayed on the tower's screens.
At night, the tower serves as an audiovisual theatre for the performance of 'with lightspeed into the future' by the budapest-based installation art group kiego izzok ('lights burning out'). from four in the afternoon through morning, DJs play sets from the tower's terrace, to accompanying light displays on the LED walls.
The 15-ton, 10-story complex stands 30 meters (98 feet) high, featuring over 250 square meters of LED walls. it is built of textile and plastic in addition to the screens, featuring interior elevators to transport festival-goers and performers throughout the building, including to the terrace (at 14 meters or 46 feet high) and the look-out point (at 30 meters or 98 feet high).
Source:designboom.com