KAIST's Flexible Micro LED Wearable Device Could Regrow Hair
Tag :
Wearable Device,KAIST,Micro LED,Flexible Vertical Micro LED,Medical Application
Regrowing hair for mice is the new application unveiled by researchers from the Korea Advanced Institute of Science and Technology (KAIST) with their red flexible vertical Micro LED technology. They published their result in ACS Nano in August.


The team created a wearable photostimulator made by a flexible array consisting of 900 red vertical Micro LED diodes. The size of the device is smaller than a stamp and only 20 μm thick, and it can stand for up to 10, 000 cycles of bending and unbending. According to the research, compared to conventional phototherapeutic laser, the wearable device consumes 1,000 times less power but results in high output. In addition, it does not heat up to cause damage to the skin.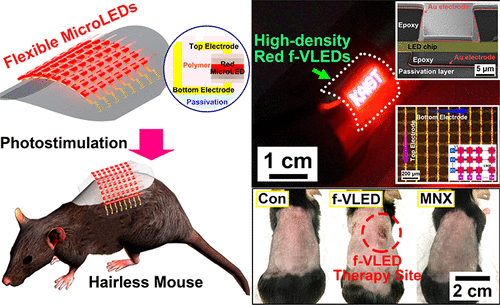 Scientists treated the mice, which had their back hair shaved for 15 minutes a day for 20 days. In comparison with other shaved mice treated with minoxidil and those with no treatment, the mice that received the stimulation from the red flexible vertical Micro LEDs showed significantly faster hair growth over a wider area with longer regenerated hairs.


If the technology becomes more mature and turns into a product in the future, it would be practical for people with hair loss problem. Aside from being the next generation display technology, Micro LED can meet various needs with a wider range of applications.
Source:ledinside.com