Jake Dyson: CSYS LED Task Light
'CSYS LED task light' by jake dyson H65.3 x D52.7 x base17.7 cm
challenging the convention of mechanical movement and positioning of existing task lights, jake dyson studio has produced the 'CSYS LED task light' which debuted at ICFF new york . marrying the latest technology with sleek design and innovative positioning, its refined thermal management and electronics system is efficient and durable and produces a bright, clear even pool of warm white light.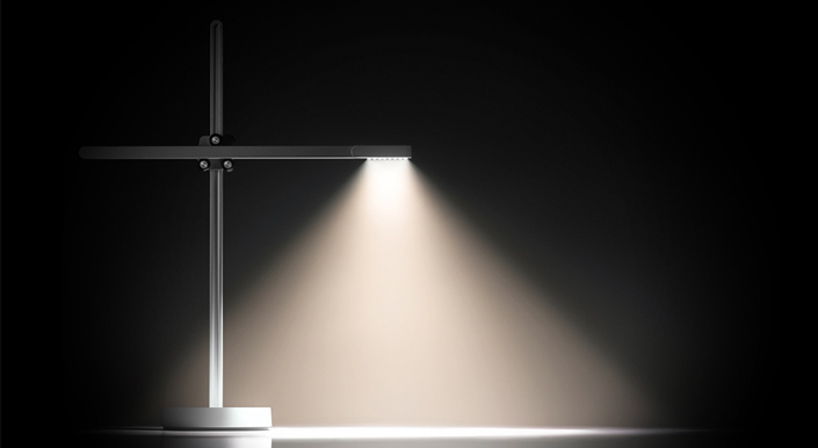 The structural form of the lamp draws on the mechanics of a track drafting machine and a construction crane, allowing the lighting elements to be adjusted effortlessly in three axes, resulting in exact and stabling positioning. the dimmable device's optical design minimizes hot-spots and the opportunity for glare. the refined and compact structure of the light's sources means that it is not obtrusive when positioned in your line of sight.
Effective temperature control is essential to prevent early life failure as it is proven that excessive heat reduces the performance of LEDs, leading to a shorter life span, reduced efficiency and disturbance in colour. the cooler the LED, the longer the life. in order to achieve maximum efficiently, a heat sink must utilize the entire surface area to discharge heat.
The british designer has used heat pipe technology – originally developed for use in satellites and commonly used to help cool microprocessors – to reduce heat away from its source. its application to this lighting concepts helps conduct heat away from the LEDs, distributing it more evenly over the incorporated heat sink. it uses no external pumps or extra energy to cool the bulbs, and is instrumental in keeping the task light running brightly and efficiently for 37+ years. the LEDs used run at just 30 degrees celsuis above room temperature, giving it 160,000 + hours of life, also making it five times more energy efficient than a comparable halogen bulb.
The 'CSYS LED task light' comes in five colorways: black, white, industrial blue, industrial red and putty grey, and will be available exclusively through domus design collection (DDC) in new york. 
video discussing 'CSYS engineering' – components and technology
'CSYS concept'
specifications: LED power (W): 8.8 W luminous efficiency (lm/W): 56lm/W colour temp (K): 2700K CRI: 82 beam angle:     90° IP rating: IP 20 touch switch: yes touch dim: yes
Features: touch sensitive dimming      light level memory      safe 12V supply      material: aluminium, copper, polycarbonate plastic
Source:designboom.com