Fully Automated Vertical Farm to be Built in Ohio, USA with LED Lighting Supplied by Signify
Tag :
Vertical Farm,LED Horticulture Lighting
A Cincinnati-based indoor farming company, 80 Acres Farms, has announced its plan to build a vertical farm in Hamilton, Ohio, which will be the first fully automated indoor farm in the U.S.


The grow center will feature with cutting edge technologies including robotics, artificial intelligence, data analytics, and around-the-clock monitoring sensors and control systems to optimize every aspect of growing crops. Signify, as the current technology partner of 80 Acres Farms, will provide its LED horticultural lighting system to the new vertical growing center. Another Dutch company, Priva, will provide environmental control systems and process management software for indoor farming.


The company plans four phases to build the vertical farm which will measure over 13935 square meters (150,000 square feet) once completed. The initial phase is scheduled to be finished before the end of 2018. According to Mike Zelkind, co-founder and chief executive officer of 80 Acres Farms, the vertical farm will be automated from seeding to growing to harvesting for highest quality and food safety standards.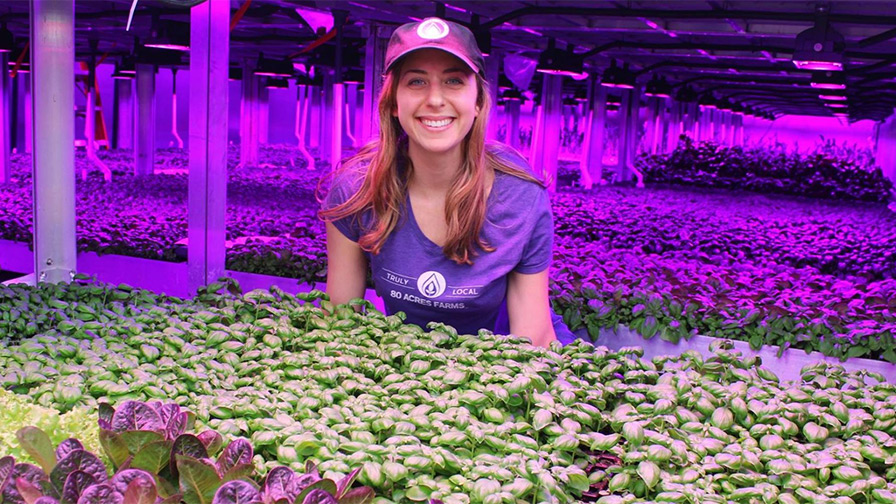 Once it starts to operate, the farm is expected to provide sufficient fresh products to new customers and the existing ones including Whole Foods Markets, Dorothy Lane Markets and other retailers and foodservice distributors.


Zelkind said, "With the Hamilton facility we will achieve the next-generation of indoor vertical farming using best of breed technology. This project will deliver our proof of concept that indoor farming can be fully-automated, commercially scalable, higher-yielding, and profitable. It will serve as a prototype for our ambitious plans to co-locate similar facilities with commercial customers in other parts of the country.''
Source:ledinside.com