Automotive Power LED for Projector Headlamps Hits 200cd/mm²
"Each headlight achieves a resolution of more than one million pixels, offering car drivers not only classic illumination but also optional support from information projected onto the road," it said. " For example, future headlights may project two guide lines the width of a car apart, enabling the driver to negotiate roadworks more safely. Projections may also be used to tell drivers that they are too close to the vehicle in front, or warn them that they are approaching roadworks, icy patches or other hazards."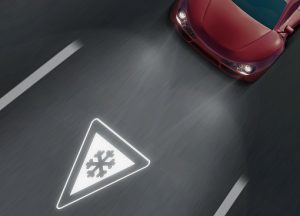 The chip is the Oslon Boost HX, designed by Osram using experience gained with generations of high-output LEDs for conventional image projectors, and to meet automotive reliability requirements.
"This first product in the Oslon Boost family addresses the trend for special user experiences with added safety and emotional appeal. This LED is a good example that shows the enormous potential our products will have in automotive lighting," claimed Osram marketing manager Stefan Seidel.
The chip's specification is impressive: the 2mm² die can be operated at 3A/mm² producing 200cd/mm²  – emitting at least 1,400 lm at 6A.
Packaging is 4 x 4mm ceramic, internally optimised to handle the chip's heat, said Osram,  and "very robust so it is easy to handle".
Source:electronicsweekly.com